WHAT IT IS: An app to help you to easily, quickly and cost-effectively create a photo album from your smartphone or tablet.
WHY WE LIKE IT: Mosaic is the perfect way to create a spontaneous photo book from your iPhone or Android. The app is super easy to use and it's fast–it takes just minutes.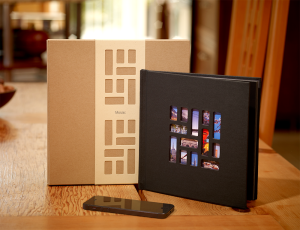 The photobook makes a terrific gift (think post holiday, thank you gift, family memento, BBQ, birthday, the list goes on) and arrives to the recipient in just a few days.
Mosiac books are 7×7, include 20 photos, and are delivered in very sleek packaging. We're also fans of their unique covers.
HOW MUCH IT COSTS: $25 (plus shipping, which is typically $5)
NOW, TAKE THE FIRST STEP: Go to heymosaic, download the free app to your smartphone or tablet and begin creating your book. Choose your photos, enter where you want it shipped and pay. Your Mosaic book will be on its way right away. Think about treating yourself to one, too!
WANT TO KNOW MORE? Click here and listen to Gieriet and Kendra discuss it in greater detail on Soundcloud.