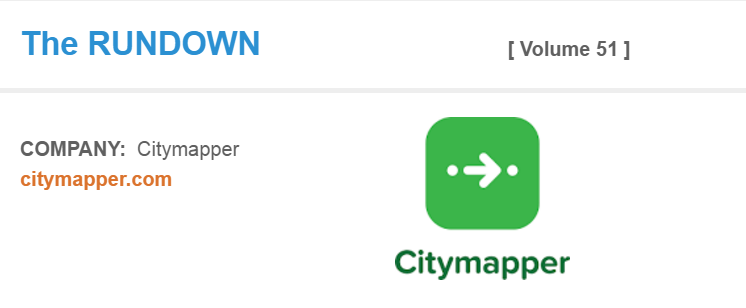 WHAT IT IS: A travel app that tells you the best way to get from A to B including ETA.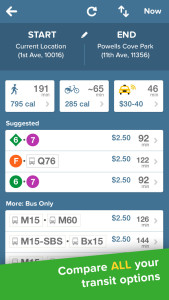 WHY WE LIKE IT: Summer travel season is upon us! Here's an app that will help you get where you want to go in close to 40 cities worldwide (including eight in the U.S.). We first heard about this app from a friend in London who swore by it. Now, we've tried it at home and abroad and we have to say, it's a winner!
Billed as "the ultimate transport app", Citymapper offers real-time routing for just about every type of transportation option you can think of: subway, bus, rail, ferry, bike/car sharing, walking, etc. You get the picture. The app is updated every minute so you are truly up-to-date on the best way to get to your destination. Simply enter "Get Me Somewhere", Get Me Home", or "Get Me to Work" and it will show you the fastest and cheapest way to get there (including information about any travel disruptions).
This app takes the concept of being user-friendly to a whole new level. It's not only super helpful for your commute; you can also track your friends so you know their exact ETA. And speaking of friends, Citymapper integrates its data with partners like Google, Apple, Uber, Yelp, and more so it's extremely accurate. This app even has a sense of humor. Really. Give it a try and you'll see what we mean.
This innovative company's motto is "making cities usable" and it's clearly passionate about leveraging technology to make that happen. They recently launched the Citymapper Smartbus in London, which is using data to reinvent the way buses and routes operate. You can read about it here.
BTW, we're not the only fans of this app. Citymapper was voted one of the best apps of 2017 by Google Play.
HOW MUCH IT COSTS: It's free.
NOW, TAKE THE FIRST STEP: 
Download the Citymapper app for 
iPhone
 or
Android
for the city you plan to visit (or your hometown.) Whether you're a tourist or a commuter, it might quickly become your go-to travel app. And if Citymapper is not available in your location, no problem. You can visit
www.citymapper.com
and vote for the apps' next city.