WHAT IT IS: An online estate sale.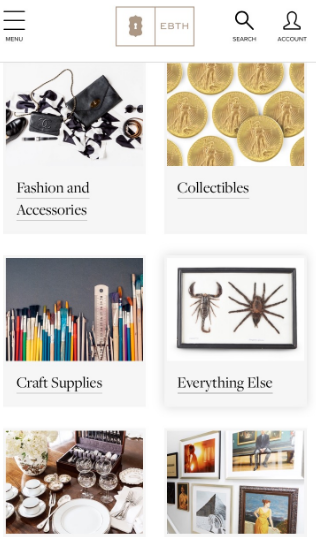 WHY WE LIKE IT: Think 'house sale'…but rather than wake up early on a Saturday morning to check out someone's items, everything is online! Each estate sale auction lasts 7 days and the minimum bid is only $1. Whether you're a seller of stuff (think clearing out your parent's attic) or a buyer looking for something unique (think pink antique flamingo), EBTH is a super cool site. The company started in Cincinnati in 2008, and has since expanded nationwide to 27 markets and growing.
EBTH sets itself apart by offering great service and taking the hassle out of selling something (or an entire house full of accumulated things.) They will even come to your home to sort, catalog, price, and photograph your items, and can help assess whether something should be donated or thrown away. Plus, EBTH handles the payment, pickup, shipping and delivery. How easy is that?
Buyers can shop for antiques, art, coins, collectibles, furniture, jewelry, and more (even cars!) You may set a 'watch' for certain items or just serendipitously 'shop' for needed…or wanted treasures in one of EBTH's boutiques—all from the comfort of your own home. Who knows? You just might find that one-of-a-kind gem!
HOW MUCH IT COSTS: Free to register; obviously you pay for items you buy through bidding. For sellers, a home consultation is free. The company keeps approximately 40% of the items' final sale price.
NOW, TAKE THE FIRST STEP: Visit www.ebth.com to register. You can contact the company if you have something to sell. If you're a buyer, here's our referral link (you get $10 to spend; so do we!): http://fbuy.me/fto5j.