WHAT IT IS: An online education company.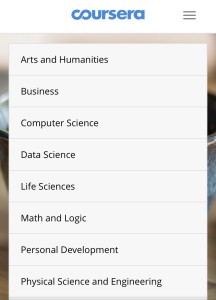 WHY WE LIKE IT: This past weekend we attended our Kellogg Graduate School of Management reunion. It was a great opportunity to reconnect with classmates and to check out the stunning, new Global Hub. (Worth a visit if you're in Chicago!) One of our favorite activities was the chance to attend seminars where faculty discussed their latest research. It was wonderful to be back in the classroom and learning again.
As self-professed lifelong learners, we're long-time fans of education-focused technology companies like Coursera. You can take online courses in literally thousands of topics. Plus, the company offers specializations and degrees in a wide variety of subjects. What an amazing way to explore new areas of interest, dive deep into a subject, and/or further your skills—from anywhere in the world.
Founded in 2012 by Stanford professors Daphne Koller and Andrew Ng, who also launched one of the first MOOCs, Coursera offers content from more 140 universities, organizations, and governments from around the world. During the past year the company introduced Coursera for Business and Coursera for Governments and Nonprofits, too. (What's a MOOC? A massive open online course.)
HOW MUCH IT COSTS:
 Free to join and enroll in many courses. The company charges fees for course and specialization certificates and "Signature Track" courses.
NOW, TAKE THE FIRST STEP:  Visit www.coursera.org to sign up and explore the course offerings and schedule. You can search by subject, institution, or country. Most courses last four to ten weeks, though some are now offered on-demand so you can go at your own pace. If you decide to take a course, we'd love to know what you think!