WHAT IT IS: An online all-in-one wedding registry and suite of wedding planning tools.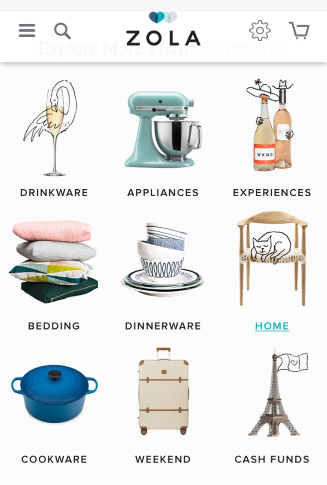 WHY WE LIKE IT: Wedding season will soon be in full swing, and chances are you'll be hearing about a company called Zola. Billed as "the wedding company that will do anything for love", Zola makes it easy to send gifts, experiences, and even cash—all from one wedding registry.
For wedding guests, Zola's one-stop shopping couldn't be more convenient. The design is beautiful, sleek, and very user-friendly. Simply scroll through the items to see photos and prices on your laptop, tablet, or phone. With just a few clicks, your gift is on its way. (No more need to visit individual store websites or the mall!)
Couples can create a customized registry by choosing gifts from Zola or any other store (there are more than 450 brands listed on the website alone) and can even put together group gift ideas or honeymoon funds. The couple is notified when a gift is purchased and can select whether to ship it now or later. There are plenty of other time-saving features, too, such as the ability to do a virtual exchange for another gift or Zola store credit.
This e-commerce startup has been disrupting the wedding registry space since it was founded in 2013. (The founding team came from Gilt Groupe, which helps explain why the design works so well.) And this week, thanks to $25 million in new funding, the company introduced a new suite of wedding planning tools. Zola Weddings will now offer wedding websites, checklists, guest lists, and, of course, their signature wedding registries—all for free!
HOW MUCH IT COSTS: Free to register and free to shop.  Did we mention that there is also free shipping everyday?
NOW, TAKE THE FIRST STEP: Go to zola.com. If you're a wedding guest, search the bar that says "Find The Lucky Couple". Couples can sign up on the site and start creating a personalized wedding registry or using any of the new wedding planning tools. Sounds like the perfect way to begin "happily ever after"!
P.S. We had some catching up to do, but our website is now up to date. Missed something? Click here to see past issues of The RUNDOWN.