WHAT IT IS: A free app that allows you to download Lilly Pulitzer emojis for your iPhone.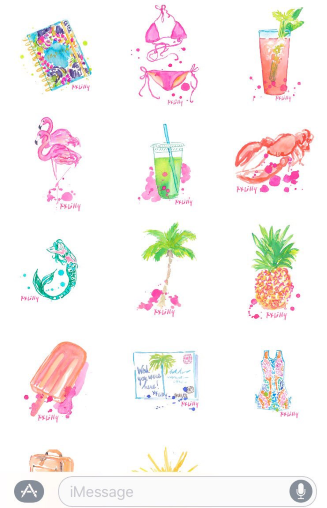 WHY WE LIKE IT:
 Spring is in the air, so it's a great time to add a little color to your text messages. (And doesn't everyone want a pink flamingo?)
Even if you are not a Lilly Pulitzer fan, someone you know is…and that someone will LOVE this! Once you download the Lilly Pulitzer app from the iTunes store you have access to the free Lillymojis. They're lots of fun and will put you in vacation mode no matter where you are!
In addition to shopping and "first looks" at new items, this mobile app has some other cool features. It allows you to download custom-designed prints to your iPhone (hello new wallpaper) or save your photos in a custom Lilly frame. You'll feel like you're in Palm Beach!
HOW MUCH IT COSTS: Free to download for iOS users. (Note that you need iOS 10 for the emojis to work.)
NOW, TAKE THE FIRST STEP: 
 Download the Lilly Pulitzer app on 
iTunes
. After registering on Lilly's site, go to your iPhone and create a message/text. To the left of your typed text is the 'A' sign for App store. Press it and add the Lilly app. It's not always simple–but fiddle around and your Lillymojis should be there! (Note that some people have found it's easier to start with a message, click on the App store and download the Lilly Pulitzer app from there.)