WHAT IT IS: An online fashion and technology company that allows you to rent dresses, everyday wear, and accessories.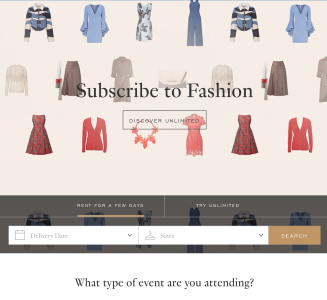 WHY WE LIKE IT:
 Rent the Runway uses technology to help answer the question "What should I wear?" The company began as an innovative online service that allows you to rent dresses, clothing, and accessories. While they initially focused on special occasion dresses and accessories for one-time use (think designer clothes without the designer prices!), they have recently ventured into everyday wear, too.
The website is incredibly user-friendly: you can search by categories such as what's trending, formality, designers, etc. and even rent an outfit right from their app. Last year they launched a new "Unlimited" subscription plan, which allows you to rent three items at a time on a rotating basis. You can keep them as long as you want or return them for something new. Think about how much this service could save you on dry cleaning bills alone!
And if you're someone who likes to browse or might hesitate at the thought of renting a dress for a special occasion without trying it on in advance, have no fear. The company recently expanded into brick and mortar stores where you can try on, exchange, or return your items. You can even "shop" online and see their in-store selection before you go. (If you live in or are visiting Chicago, Las Vegas, NYC, San Francisco, Topanga, or Washington D.C., then you're in luck.)
Rent the Runway is "disrupting" the fashion industry—literally changing the way we shop and think about consuming clothes. We're particularly impressed with the founders—smart and savvy businesswomen who met at Harvard Business School in 2008. (The company was founded in 2009.) To learn more about their vision for RTR, check out this interview with CEO Jennifer Hyman on Kara Swisher's Recode Decode (one of our favorite podcasts): "You Don't Need to Own All Your Clothes".
HOW MUCH IT COSTS:
 There are several ways to rent: pay as you go for a single rental, pay a flat fee per rental for the "StylePass" subscription, or subscribe to the "Unlimited" plan, which is $139/month and can be cancelled at any time. For $30 off your first order, click
here
.
NOW, TAKE THE FIRST STEP: 
Do a little window shopping on their
website
or download the app. You can try out Rent the Runway by ordering a special occasion dress/outfit online, visiting one of their stores, or if you're adventurous, trying one of their subscription services. It's a new way of being fashion forward—you may never view your closet in the same way again!